We supply white and yellow petroleum jelly conforming to IP/BP/USP in a range of packing options like 25 g, 40 g, 100 g (3.75 oz), 225 g. (8 oz.), 368 g (13 oz.), 500 g etc in HDPE & PP containers. Depending upon your requirements, we can blend it with fragrance of your choice.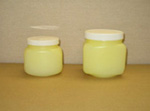 Different Packing Types of Petroleum Jelly

Liquid Paraffin is also available in a variety of sizes such as 100ml,200ml,400ml,etc pet and glass bottles
You may also want to check out Petroleum Jelly for Pharmaceuticals and for Cosmetic, there are two kinds, white and yellow.
Other Links on this site:
- Cosmetics
- Pharmaceuticals
- Inks and Resins
- Lubricants and Engineering
- Waxes and Wax Blends
- Textiles
- Other Products
- Material Safety Data Sheets
- Petroleum
- Logistics
If you require more information on Petroleum Jelly in Consumer Packings, then please
The information provided on this page is, to the best of our knowledge accurate, however, it is subject to change without prior notice. We assume no liability for the completeness of it or errors in it. Current and final specifications and datasheets can be obtained by contacting us